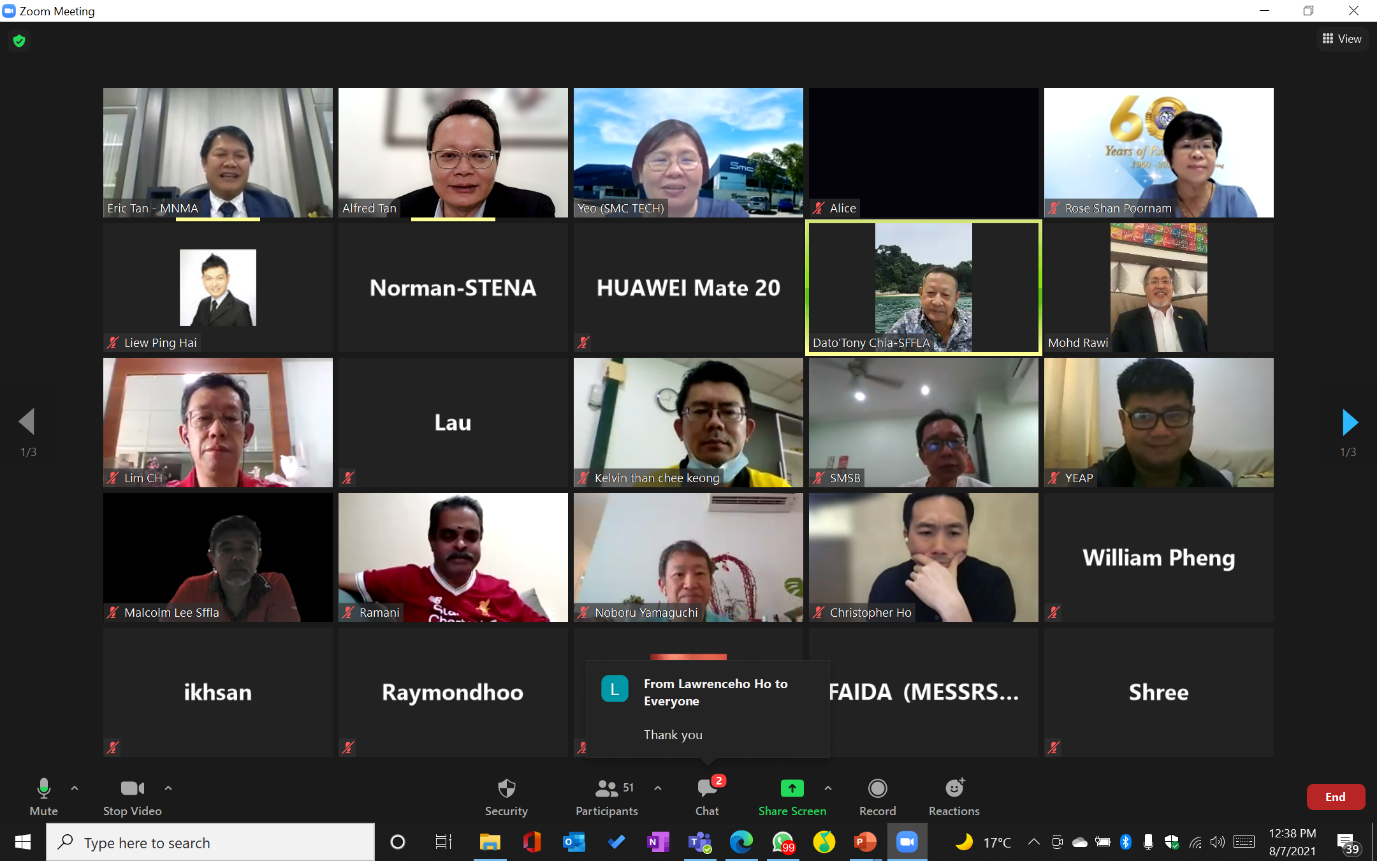 Pursuant to the release of a revised Guidelines in June 2021 followed by an announcement from Ministry of International Trade & Industry early July 2021, a meeting was held by the association on 8 July 2021 with members and associates across the supply chain including foreign exporters, international traders, local listed and multinational companies.The meeting also received due attention from established international bodies with attendance from Institute of Scrap Recycling Industries (ISRI) and Bureau of International Recycling (BIR).
A total of 39 companies with 46 representatives (excluding other associations and international bodies) attended the meeting had collectively concluded to OBJECT this Guidelines and opined that "new revised importation criteria" that will take effect on 17 July 2021 (as stated in the announcement) should not be implemented.
Among issues discussed during the meeting can be categorised to the following:
Absent of a clear and definite timeline
Guideline formulation requires tremendous ground works such as data collections, impact analysis, stakeholder's consultation, and industrial engagement. Unlike a school project, it shall be planned carefully with a comprehensive timeline detailing each process in various stages. In this manner, stakeholders would be pre-empted than caught with a sudden "pop up" of new guideline and regulation. The revised Guidelines and announcement were issued without any interactive session with the industry that the way it was implemented were also confusing including legitimacy of this Guidelines as we are not able to locate at MITI website.

Practicality and effectiveness of this Guidelines is questionable
The objective of this Guidelines has not been spelled out clearly and thus it is rather difficult for the industry to keep up with intended purpose of Guidelines committee. If Guidelines is aimed to curb importation of e-wastes, imposition of pre and post inspection will be cost burdening to the industry with little achievement as magnitude of e-waste that comes with metal scraps is insignificant. Indeed, enforcement should focus on e-wastes smuggling activities as illegal importer would not bring in containers of e-waste through normal custom declaration procedures

When Guidelines is drafted without industrial consultation, criteria set in the Guidelines are less likely to reflect actual scenario in the industry. Such "ignorance of reality" (due to lack of industrial knowledge) provides no ground for container inspection and therefore contradicts with initial intention of having guideline to regulate metal scraps importation.


Non-conformity with international standards and best practices
Importation guidelines should be clear and precise to set the rules of game in the market while conforming to international standards and best practices.

It is therefore paramount to ensure that the Guidelines is capable to discharge its role as a referencing source than inducing ambiguity and confusion to the market if were to cultivate investor's confidence in the aspect of international trade. Conformity to international standards and best practices is the base of any importation guideline to prevent unnecessary trade disputes to avoid importer being asked to return a cargo (that complied with Basel Convention by exporter) when inspection was carried out based on nonsensical importing criteria.

DOE officer in Guidelines committee should always remember that DOE as a competent person defined under Basel Convention shall always safeguard Malaysia's interest as one of the Basel signatories. Any departure from Basel Convention shall be made according to stated rules and procedures to ensure that Malaysia would not detach from global market.


Collapse of non-ferrous upstream while weakening national manufacturing base
Non-ferrous metals are now regarded as strategic resources following the world pivoting to low carbon future. In other words, we are entering into era of resource-based competition that competitive sourcing became important to conserve our local manufacturing supply chain.

As demand for non-ferrous metals increases, secondary market has been proven as an effective alternate supply for non-ferrous metals. However, while the world is competing for non-ferrous metal scraps, Guidelines committee sets 94.75% metallurgical contents as importing criteria to block majority of metal scraps importation. We are certain that the move from Guidelines committee will result to the collapse of upstream market in Malaysia and severely breakdown competitiveness of our national manufacturing base and livelihood of many upstream entities.

Consequently, downstream factories will need to compete in global market to procure semi-processed raw materials at premium price that in turn would further diminish their cash flows, and competitiveness at international market. The lack of consistent local supply for non-ferrous metals would further deter industry to move up their value chain and to embrace economic opportunities from ever booming low carbon industry. Thus, assurance of goal congruence for metal scraps importation against industrial blueprint shall be duly considered.


Public confidence
As we were made to understand SIRIM is one of the Guidelines committee members while at the same time, as revealed from the Guidelines, SIRIM is empowered to manage the whole process of metal scraps importation and inspection including certifying/disqualifying exporter, importer, and foreign inspection body (FIB). We opine that SIRIM should uphold its independency as it is a critical ingredient for an inspection body.

Whilst certification criteria were not made known to the industry, the inspection method (mainly applied for finished goods) are being used in this Guidelines without further interaction with the industry. We are also worried about competency of SIRIM officers in carry out container's inspection as they may not be familiar with our industry and applicable standards.

Foremost, we also learned that China Certification & Inspection Group ("CCIC") was appointed as "key FIB" way back in April 2021 although the Guidelines has not been adopted as of today (we assumed).
We express our deep worry and no confidence on this Guidelines and thus we have taken a stand to OBJECT this Guidelines. We agreed that the industry needs to be regulated to ensure healthy growth in the long run while safeguarding our mother earth. We are willing to offer our industrial consultation during Guideline's formulation. As pointed out above, the Guidelines shall truly reflect reality that is practical, clear, and precise which is visionary to support industrial growth.
It is also decided that an OBJECTION LETTER will be sent to YB Dato' Seri Mohamed Azmin Ali, Senior Minister of International Trade & Industry to bring up our concerns, worries and no confidence toward this Guidelines.