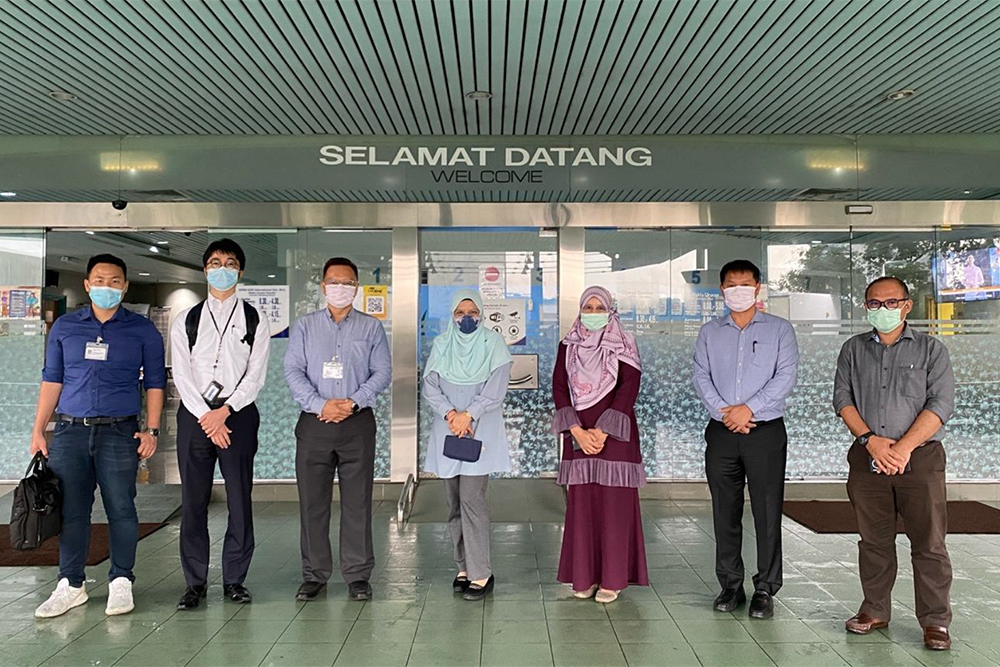 Malaysia Non-Ferrous Metals Association ("MNMA"), together with delegates from Hanwa (Malaysia) Sdn Bhd made a visit to SIRIM QAS International Sdn Bhd ("SIRIM") to seek clarification following MNMA's feedback submission on recent issuance of proposed Guideline for Importation & Inspection of Metal Scrap to Malaysia ("Guideline"). This is a second meeting between MNMA and SIRIM after the online meeting that was held on 12 March 2021 with members and invited guests from MNMA that represent a full spectrum of stakeholders in non-ferrous industry.
The meeting went well with exchange of ideas and opinions with SIRIM. MNMA will like to extend gratitude to SIRIM for their precious time spent with MNMA for the whole afternoon session. Set aside written feedbacks that have been submitted to SIRIM on 15th March 2021, MNMA further reiterates the following concerns to SIRIM. The purpose of proposed Guideline, as clarified by SIRIM, is to curb possible importation of e-waste and hazardous waste through regulating three main HS Code namely HS 7204, HS 7404 and HS 7602 in light of importation trend that shows large volume of metal scraps importation into Malaysia. MNMA supports the objective of this Guideline as it is in tandem with spirit of Basel Convention that prohibits trans-boundary movement of hazardous wastesfrom OECD countries to Malaysia. However, while there is a need for an imposition of certain monitoring mechanisms to promote healthy growth of non-ferrous industry, MNMA urges Guideline Committee to revisit steps taken in proposed Guideline to ensure that these initiatives are able to well meet objective of preventing unwanted importation of e-waste and hazardous waste.
In addition, measures taken should be practical and commercial viable in order to preserve survival of this industry and current foreign investments in Malaysia. Indeed, Guideline shall play a catalyst role to pave a green lane for development of non-ferrous downstream industry through cultivation of upstream supply amid current transition to digital edge and low carbon energy future.
Notably MNMA learned that SIRIM strives to address in balance both commercial needs and environmental impactsto support industry growth. Thus, SIRIM is currently collecting data and testing certain measures in the Guideline to ensure its practicality including daily containers' throughput and meeting with relevant port authorities and agencies. Having said that, SIRIM informed MNMA that once the Guideline is finalized, the industry will be properly informed of the implementation date whereby sufficient grace period will be given to the industry to make preparation and adaptation to the Guideline. SIRIM further clarified that the team is diligently going through all received industrial feedbacks in ensuring the success of the Guideline. A revised Guideline will be made available to the industry subsequent to endorsement from Guideline Committee. MNMA therefore reiterate the importance of industrial comments and allowing reasonable timeframe for industry to feedback on revised Guideline prior to adoption to ensure that it would not adversely affect the industry and foreign investment in the country.
The proposed Guideline is subject to TBT notification as stipulated in Agreement on Technical Barriers to Trade, a multilateral agreement administered by the World Trade Organization (WTO). Therefore, it would be difficult to ascertain exact implementation date at this juncture. Besides, MNMA wish to meet Guideline Committee whom has the prerogative to ascertain measures contained in the Guideline in order to rationalize pertinent industrial concerns to the Committee. Such request has been put forward through SIRIM as MNMA wish to contribute further from the perspective of conceptual framework that is paramount for industry's future development and Malaysia economy.
Among matters that have been discussed include 0% tolerance on hazardous waste, exorbitant inspection cost, suitability of current AQL sampling plan and effectiveness of altering HS Code e.g. 94.75% solid ferrous and non-ferrous contents to curb illegal importation of e-waste and hazardous waste. SIRIM reiterated that the Guideline serves to ensure a control mechanism is in place for scrap importation, including process for pre and post shipment. SIRIM hopes MNMA could help to communicate such clarification to the industry. Accordingly, a few options will be made available to exporters and importers whom decided not to opt for pre-shipment and post-shipment inspection. When MNMA inquired about suitability of sampling plan, SIRIM mentioned that in recognizing nature of non-ferrous metal scrap and container shipping mode, an option for sampling plan will be proposed. Besides, the hazardous tolerance percentage of 0.3% will be discussed further with the Committee. In addition, MNMA proposed for % of total recoverability instead of % of solid ferrous and non-ferrous contents in HS Code that is in tandem with current terminology of "recoverable resources".
MNMA will be providing necessary industrial resources, knowledges and supports to SIRIM pertaining to practicality and justification of certain measures contained therein. For example, matters relating to HS Code alteration and "crushed form" definition. Therefore, MNMA and SIRIM would be collaborating to facilitate such initiatives with inputs from industrial stakeholders. We welcome more feedback that is relevant to this Guideline at [email protected]. Our contribution could be the underpinning of a more refined Guideline to warrant sustainable growth of industry and national economy without further scarifying our Mother Earth.